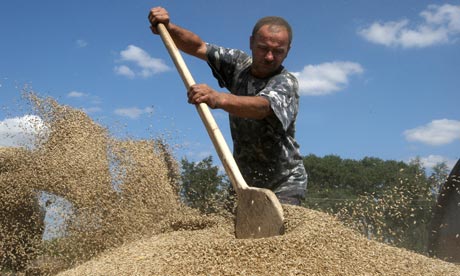 The Agricultural Policy and Food Ministry of Ukraine has downgraded its forecast for exports of grain from the country in the current agricultural year (July 2012 – June 2013) from early anticipated 22-23 million tonnes to 20 million tonnes.
"This agricultural year, Ukraine will export 20 million tonnes of grain," Agricultural Policy and Food Minister Mykola Prysiazhniuk told reporters in Kyiv on July 11, 2012.
As reported, in early July 2012 Prysiazhniuk said that grain exports from Ukraine in the new agricultural year (July 2012 – June 2013) could reach 22-23 million tonnes, which is almost the same as in the previous season. He also announced the grain harvest forecast for 2012 being 47 million tonnes.
Later the ministry revised the grain harvest forecast – 45.3 million tonnes.
Ukraine in the previous agricultural year (July 2011-June 2012) exported 21.8 million tonnes of grain, which is 81% up on the year before.
The country harvested 56.7 million tonnes of grain in 2011, which was 44.3% more than the year before.